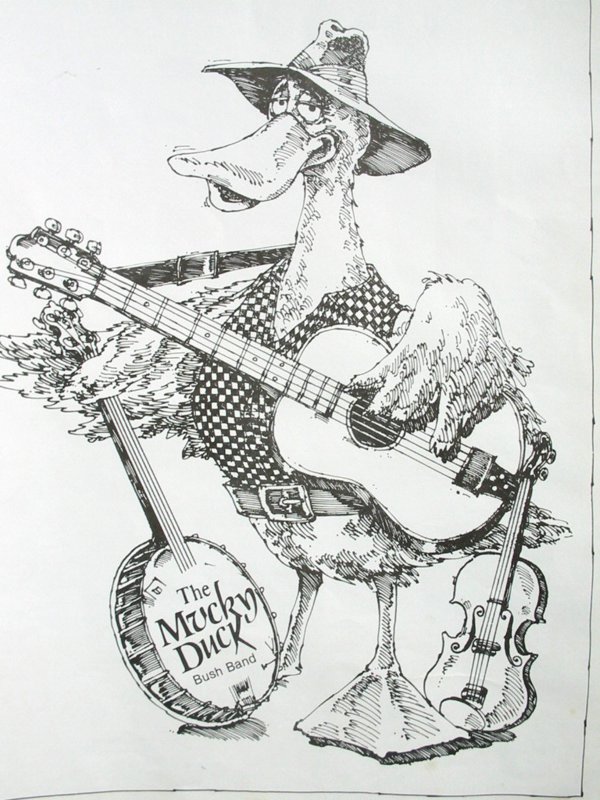 Mucky Duck Bush Band (Perth)
Contact: Don Blue
Phone: 0410 006 581
Email: This email address is being protected from spambots. You need JavaScript enabled to view it.
Since 1974, the "Duck" has been performing its unique brand of Australian folk songs and dance to audiences large and small at festivals, community & corporate events and schools across Australia and overseas.
Our concert spots are entertaining and informative and pay homage to our Colonial heritage, ideal for Heritage fairs and historical events. Our Aussie sound and look is also great for tourism events. Songs range from tourist favourites such as Waltzing Matilda and the National Anthem through traditional Aussie folk to contemporaries such as John Williamson, as well as originals in the Bush Band style. The music is lively and has broad appeal, ideal for family events - we play mostly acoustic instruments and at family-friendly sound levels.
---
What people are saying...
"The music level was absolutely perfect allowing the oldies to still enjoy conversations at their table. Others, my business colleagues especially, hadn't danced for years, said…..'I only missed one dance cos I was getting a drink after the previous work-out!' So a huge thank-you for the unique quality and fun of the music and dance that so enhanced our evening. You are warmly recommended to all our friends. Just keep it up!" - Stuart & Val
"I had a ball for my 60th ... I appreciate your style, expertise, professionalism and friendliness." - Chris Avegrews
"Thankyou and your band so much for a great night's entertainment! It always amazes me how you can get everybody up and away doing all those fancy steps. A great job." - Sarah Hills, Treasurer, Yealering P&C
"The Yilgarn Agricultural Society would like to say thank you in appreciation of the wonderful music you performed at the show. You were very popular with the people of Southern Cross." - Stephanie Oetiker, Secretary, Yilgarn Agricultural Society
"You guys were excellent and everyone has been Raving about the wonderful time they had. Thank you so much for your efforts and energy. You certainly know how to live up to your reputation." - Michelle Skitt, Grants Co-ordinator, Serpentine PCYC
"Just a little note to say a huge thank you for giving us the best time ever last Saturday. Our bush dance was the highlight of our week's activities and the Japanese group wondered what had struck them! Never before had they been given the chance to let their hair down (as with some of the Perth folk as well) So thank you for giving us an afternoon filled with great music, lots of laughter and sore feet." - Sue Brannon, Friendship Force, Perth
Check them out...
Learn more About us